Driveway cleaning and Patio cleaning
As well as offering a carpet, upholstery and tile cleaning service. I also offer driveway cleaning and patio cleaning service for domestic and commercial customers. We will bring your driveway, block paving, patio and any other hard surfaces back to life, giving your property that 'kerb appeal' to family and friends and potential customers.
I understand that the appearance of your property from the outside says a lot about the inside, and you want to take care of your driveway and patio in the same way you do in the rooms of your house. Over time, any exterior surface – block paving, concrete flags etc. – can visibly become a victim to dirt, moss and algae flourishing across the surface. Damp and wet conditions encourage this problem (bad news for us Brits), making your driveway or patio look dull and unkempt.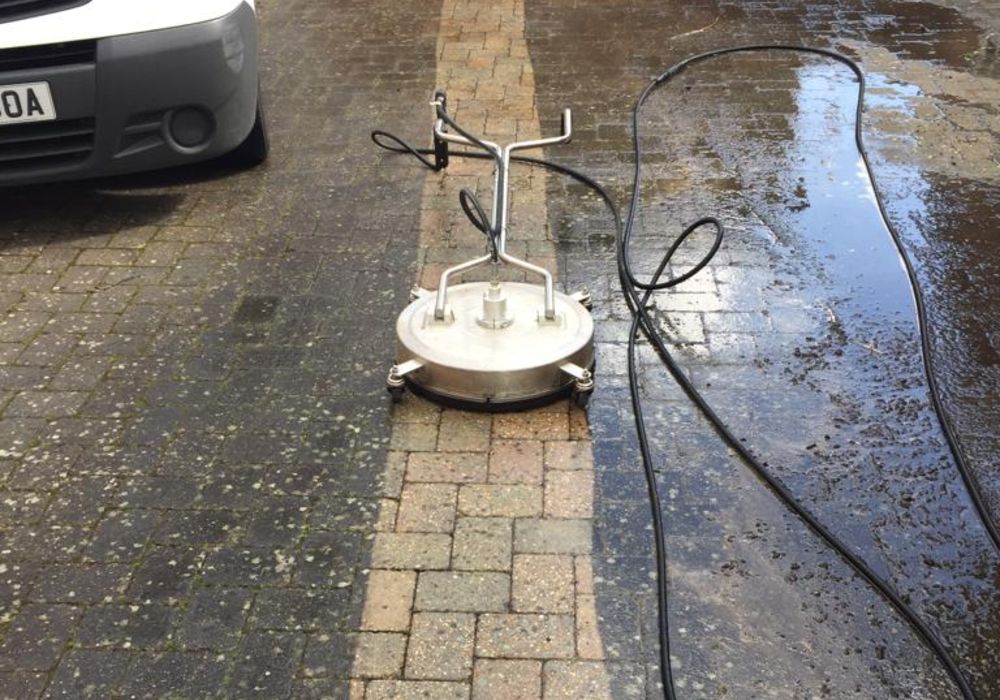 The winter months can take their toll on our outside surfaces with the appearance of unsightly lichens, algae and moss. Keeping the exterior surfaces of your property clean makes such a difference, not only from an appearance point of view but also from the safety aspects. Unkempt pathways and driveways will attract moss and algae which can become slippery and hold the potential to cause unnecessary slips and falls. If the area around your home or business needs freshening up, we offer a fast, friendly and professional service.
I use a high quality professional pressure washing equipment and specialised cleaners to offer a first class driveway and patio cleaning service.
Areas Covered: York, Tadcaster, Sherburn in Elmet, Selby, Wetherby, Boston Spa, Boroughbridge, Harrogate, Knaresborough, Thirsk, Easingwold, Pocklington and surrounding areas
Driveway cleaning
Over time, your driveway can start to look faded and dirty and can make your property look unsightly. As with any external surface exposed to the elements, over time weeds, moss, algae and lichen can flourish, causing them to look dirty and in the need of some attention. A freshly cleaned driveway can make an amazing difference to the overall look of your home. It brightens and smartens up the front of your house, giving the whole place a lift.
Block paved driveways are the ones we seem to do the most, weeds and moss growing up through the joints can quickly get out of hand and spoil the appearance of the driveway. But don't stress, we can remedy these problems using our high pressure cleaning machine and specialised cleaning chemicals.
When cleaning block paving driveways, I will re-sand to replace the sand driven out while cleaning. I will carry out the re-sanding once the block paving has dried, this can be the next day if the rain stays off, I make this my priority to come back and re-sand.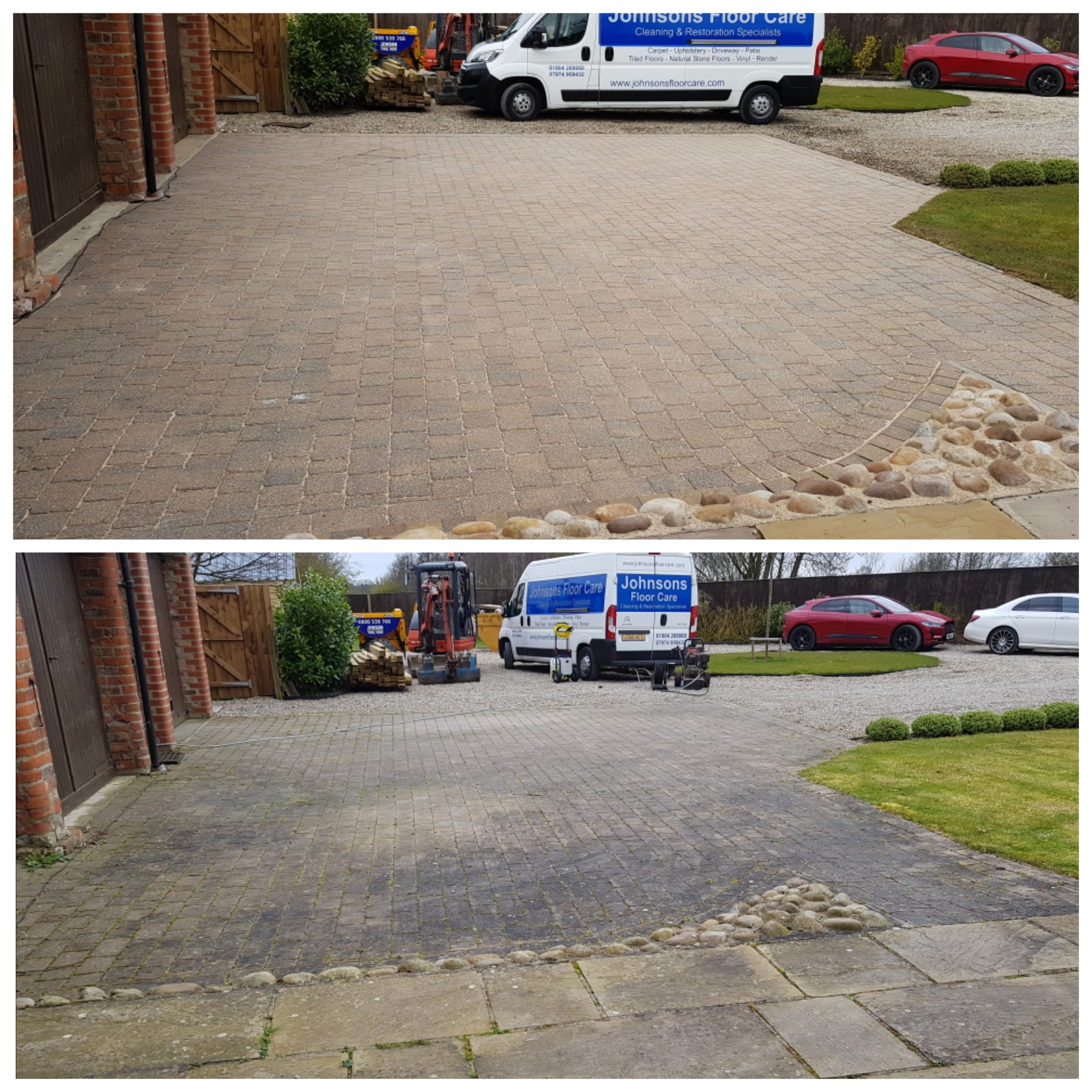 Patio cleaning
As your patio tends to be an area the whole family uses keeping it hazard free is essential, patio cleaning and maintenance will also prolong the life your patio. My aim when cleaning your patio is a simple one, I want you to look forward and be happy to walking outside onto your patio. Whether it's to enjoy a barbecue and glass of wine to play with your children or pets. A dirty patio is not a pleasant place to sit and can be a dangerous slip hazard when the patio surface gets slippy in the wet winter months.
Porous patio surfaces can quickly attract the growth of algae, moss, lichen. Our cleaning service will leave your patios and paths looking clean and fresh, ready for those relaxing spring and summer days we have to look forward to.
I also offer a soft wash patio cleaning service, with the same equipment I use to clean interior tiled floors, on patios that have problems with loose pointing this technique will minimise any damage or removal of pointing that is not in good condition.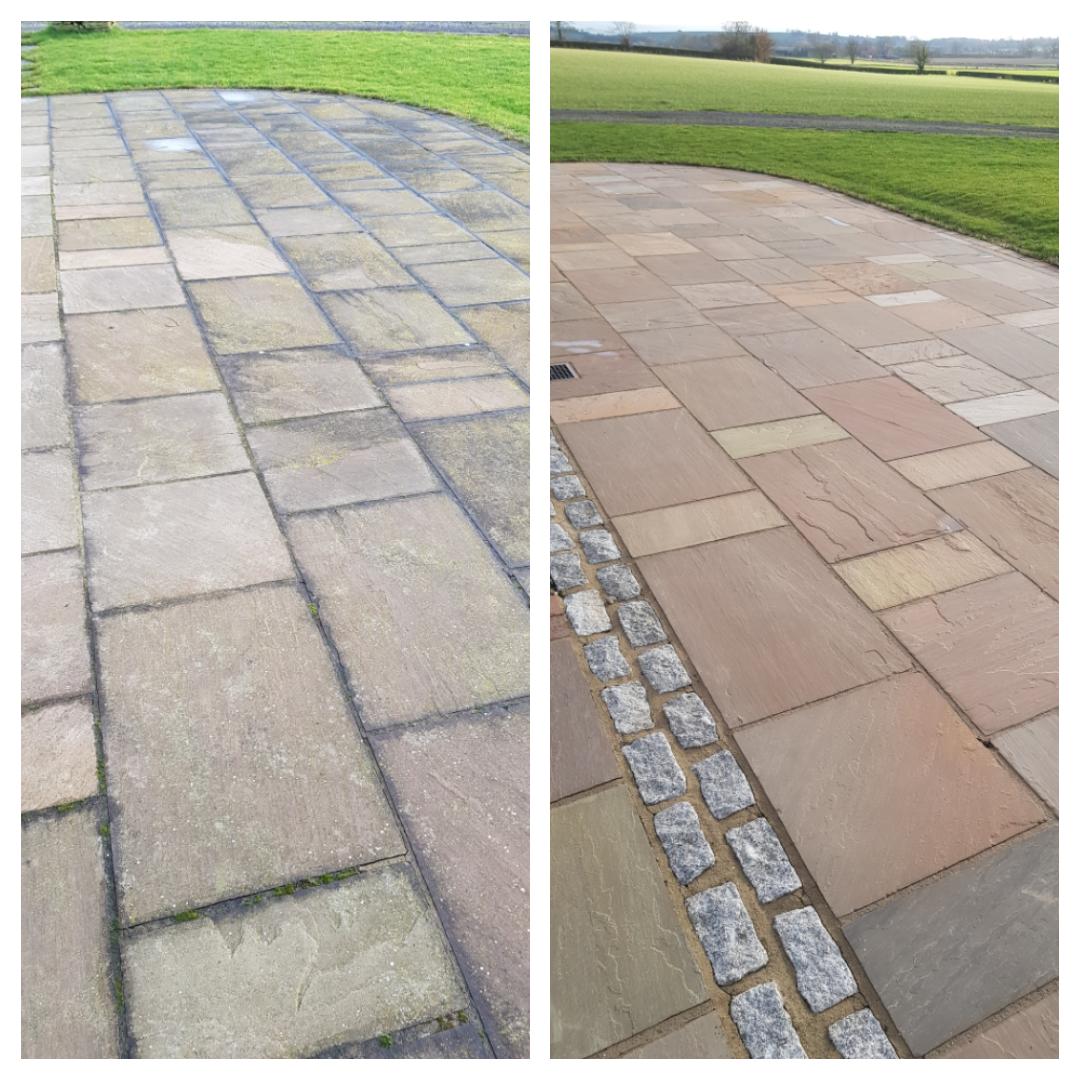 Driveway and Patio cleaning